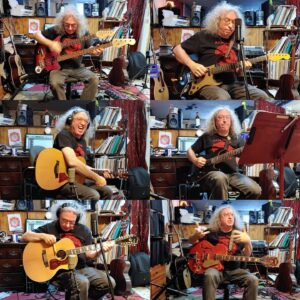 Saturnday, October 7th, 2-5pm, we'll be back  @ the Cafe in Long Beach (780 West Beech St.). We may invite folk to sit in.

November 10th, 8:30pm: Coincidence Machine will join MindBurn (and a special tba guest) @ Bartini Bar (124 N Carll Ave, Babylon) for an evening of high-energy rock (but again, remember we have trouble remaining in one genre for long). $5 cover
Saturnday, November 25th, 8-11pm: We return to Bagel Boss in Hewlett (1324 Penisula Blvd, Hewlett). We tend towards more rock&roll, but if you want to hear something else from our repertoire, just ask. No cover.
Saturnday, Januray 20th, again @ Bartini Bar (124 N Carll Ave, Babylon) splitting the bill w/ Dee Harris. I'm excited just about seeing the other act.
Livestreams of performances are often presented on the Twang! page
Very often you can witness performances (or rehearsals) on Twitch.
https://twitch.tv/coincidencemachine
Typically Coincidence Machine performs @ 4:30pm Eastern Time on Tuesdays
And often on Friday noonish Twang! and Eli share their practice of North Indian Classical music. Mondays there is often a jazz jam session 3:00ish.