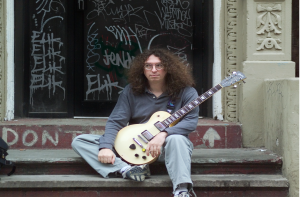 Jimi Durso is a bassist, guitarist, composer and teacher in the New York area. He has been playing and teaching for over 20 years, playing rock, jazz, reggae, ska, funk, salsa and surf rock, and classical music. Though he concentrates on his own music, some of the artists he has had the pleasure of playing alongside include: the Toasters, the Scofflaws, Ray Anderson, John Abercrombie, and John Faddis. He helped found the modern jazz group Piltdown Man and currently performs with the rock group Coincidence Machine. His music has been used in such television programs as That Metal Show, Secret Lives of Women, Runway Moms, Kids Are In Charge, Emeril Green, and 5 Takes Europe, among others. Jimi Durso was designated a Finalist in the Jazz Composers Alliance/ Julius Hemphill Composition Awards in the Small Ensemble Category for two separate years. He is co-editor of Jazz Improvisation: Advice from the Masters, which is distributed by Jamey Aebersold Books, and his transcription and analysis articles appear regularly in DownBeat magazine. He also writes regularly for Bass Musician Magazine Online.
He recovered from a debilitating depression and has an ebook detailing his revitalization.
His formal education includes studies of guitar technique, music theory and composition with Richard Rabatin (1985-1988) and Steve Salerno (1988-1990), and classical guitar with David Doig (1987-1988) and Jerry Willard (1988-1992). His studies on the acoustic double bass were with Lynn Milano (1992-1994), Mike McGee (1994-1996) and Ian Murphy (1998-2000). He has also studied voice with Dominique Gizelle from 2002-2005.
Jimi Durso has been teaching private students since 1987 and at the Hebrew Academy of Long Beach since 1999.
Selected recordings:
Piltdown Man Dogbreath 1991
Ensemble Uniqua Life Songs, Life Journey 1997
Piltdown Man Blues Explorations 1998
Defactos Birth 1998
National Boulevard Last Cigarette (Outcat Records, 2004)
RBC Pleasure Ep (2009, Jimi plays the solo on "You're Great")
Piltdown Man Primordial Selections
Coincidence Machine Upside Out
(a review of this CD appears in Bass Musician)
Adam Baranello Raise the Flag (AJB Productions 2012, Jimi plays on "Make Me Strong", "Royalty", "If You Go", and "Dance Song")
Srulie Sarf Soulie Instrumentals (Aderet Music 2017)
Robert Lepley MacDougal St. NYC (Jimi plays on "In Your Own Sweet Way") 2017
Education:
B.A. in Psychology from the State University of New York at Stony Brook, graduated magna cum laude, May 1992
Graduate classes in psychology from the New School for Social Research, 1996
Course in Ethnomusicological transcription at Hunter College, 1998